Click here for the English Version
Das Kunstwerk für Folge 3 von Art of the Week wurde von euch gewählt! Und wenig überraschend ist es wieder eine der großartigen Illustrationen für das Sammelkartenspiel Magic: The Gathering geworden.
Neugierige Kinder von Josu Hernaiz
Mit der Edition 'Thron von Eldraine' bewegt sich das bekannteste Sammelkartenspiel der Welt in neuen gestalterischen Sphären. Inhaltlich werden hier berühmte Märchen und Sagen für die Karten herangezogen.
Gleichzeitig gibt es nun auch mehrere Design-Versionen einzelner Karten, die an das jeweilige Thema einer Edition angepasst sind (Booster Fun).
Unser heutiges Beispiel von Josu Hernaiz gehört zu diesen selteneren Kartenversionen und bezieht sich auf die berühmte Erzählung von Hänsel und Gretel der Gebrüder Grimm.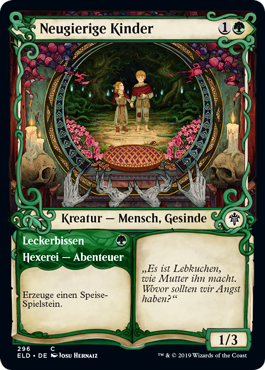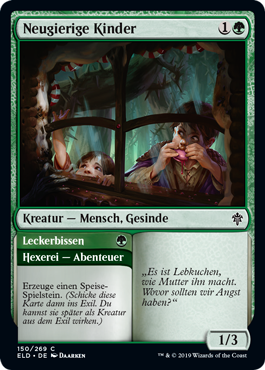 Alle bekannten und häufig dargestellten Elemente der Geschichte sind vorhanden: die Geschwister in zerschlissener Kleidung, der bedrohliche Wald, in dem sie ausgesetzt wurden, das einladende Hexenhaus mit Süßigkeiten und die drohende Gefahr durch die Hexe, welche die Kinder verspeisen möchte.
Zwei Aspekte der Illustration sind besonders bemerkenswert. Die gewählte Zentralperspektive lässt uns tief in die Erzählung eintauchen. Ebene für Ebene baut der Künstler dabei das Bild auf: Im Vordergrund stehen die klauenartigen Hände der Hexen, es folgt die Hexenhauswand mit Vorhängen, Totenkopfkerzenständern und einer Wolke aus roten Beeren. Durchbrochen wird das Ganze durch ein rundes Fenster auf dessen Fensterbank ein großer Obstkuchen steht. Die nächste Ebene bilden die Kinder auf dem Waldweg, der sich nach hinten in den düsteren Bäumen verliert.
Gretel blickt ihren großen Bruder Hänsel an. Doch dieser schaut weder sie noch den Kuchen an, sondern scheint uns direkt zu fixieren. Der runde Fensterausschnitt und das Durchbrechen der Bildschranke erinnern stark an die altniederländische Malerei des 15. Jahrhunderts.
Auch hier kommt es erstmalig zu einem Bruch der Grenze zwischen Betrachter und Bild. Berühmt ist vor allem Jan van Eyck für sein Spiel mit Realität und Bildfiktion sowie dem Einbinden des Betrachters.
Zum Künstler | Josu Hernaiz
Josu Hernaiz ist ein freischaffender Künstler mit Schwerpunkt auf Illustrationen und Concept Art. Er arbeitet vor allem für Wizards of the Coast in Form von Illustrationen für das Sammelkartenspiel Magic: The Gathering, aber auch für andere Studios und Entwickler im Unterhaltungsbereich.
Er lebt in Santiago de Chile.
---
Du möchtest mehr hiervon? Dann werde Teil der Patreon-Community!
---
The artwork for episode 3 of Art of the Week was chosen by you! And not surprisingly, it has once again become one of the great illustrations for the trading card game Magic: The Gathering.
Curious Pair by Josu Hernaiz
With the edition 'Throne of Eldraine' the most famous trading card game in the world moves into new creative spheres. In terms of content, famous fairy tales and legends are used for the cards.
At the same time there are now also several design versions of individual cards, which are adapted to the respective theme of an edition (Booster Fun).
Our example today by Josu Hernaiz is one of these rarer card versions and refers to the famous story of Hansel and Gretel by the Brothers Grimm.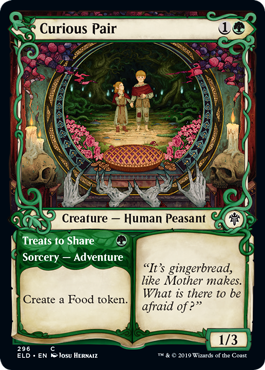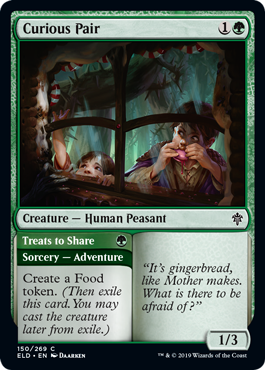 All the well-known and frequently depicted elements of the story are present: the brothers and sisters in tattered clothing, the threatening forest where they were abandoned, the inviting witch's house with sweets and the imminent danger from the witch who wants to eat the children.
Two aspects of the illustration are particularly noteworthy. The chosen central perspective allows us to dive deep into the story. Level by level the artist builds up the picture: In the foreground are the claw-like hands of the witches, followed by the witch's house wall with curtains, skull candlesticks and a cloud of red berries. The whole thing is interrupted by a round window with a large fruitcake on the windowsill. The next level is formed by the children on the forest path, which gets lost in the dark trees at the back.
Gretel looks at her big brother Hansel. But the latter looks neither at her nor at the cake, but seems to fixate on us directly. The round window cut-out and the breaking through of the picture barrier are strongly reminiscent of old Netherlandish painting of the 15th century.
Here, too, the border between viewer and picture is broken for the first time. Jan van Eyck is especially famous for his play with reality and pictorial fiction as well as the involvement of the viewer.
About the Artist | Josu Hernaiz
Josu Hernaiz is a freelance artist with a focus on illustrations and concept art. He mainly works for Wizards of the Coast on illustrations for the trading card game Magic: The Gathering, but also for other studios and developers in the entertainment field.
He lives in Santiago de Chile.
---
You want more like this? Join the Patreon community!