Das Generationenschiff Nauvoo & die Mormonen in der TV-Serie The Expanse
The Expanse gehört zu den aktuell erfolgreichsten Science Fiction-Serien weltweit. Basierend auf der Buchreihe von James S. Corey (Pseudonym für Ty Franck und Daniel Abraham) produziert SyFy seit 2015 die gleichnamige TV-Serie, welche aktuell bei Amazon Prime zu sehen ist.
The Expanse spielt im 24. Jahrhundert und die Menschheit hat das Sonnensystem besiedelt. Die großen Machtblöcke Erde, Mars und der Gürtel stecken in einem mehr oder minder kalten Krieg miteinander um Ressourcen, Unabhängigkeit und Vorherrschaft. Als bedeutende, aber eher als Nebengruppe dargestellte, Fraktion wird die Glaubensgemeinschaft der Mormonen gezeigt.
Diese missionieren und sammeln Geld für das zu Beginn der Handlung gewagteste und ambitionierteste Projekt der Menschheit: den Bau des Generationenschiffs Nauvoo. Mit dessen Hilfe möchten die Mormonen in die unbekannten Tiefen des Alls vordringen und einen neuen Planeten finden, der von Menschen besiedelt werden kann.
Der Erfolg der Serie basiert unter anderem auf der überaus realistischen und hervorragend recherchierten Darstellung von Wissenschaft und Technologie, die bestehende Konzepte für die Weltraumbesiedlung, Gravitationserzeugung, Asteroidenbergwerke und so weiter überzeugend darstellt.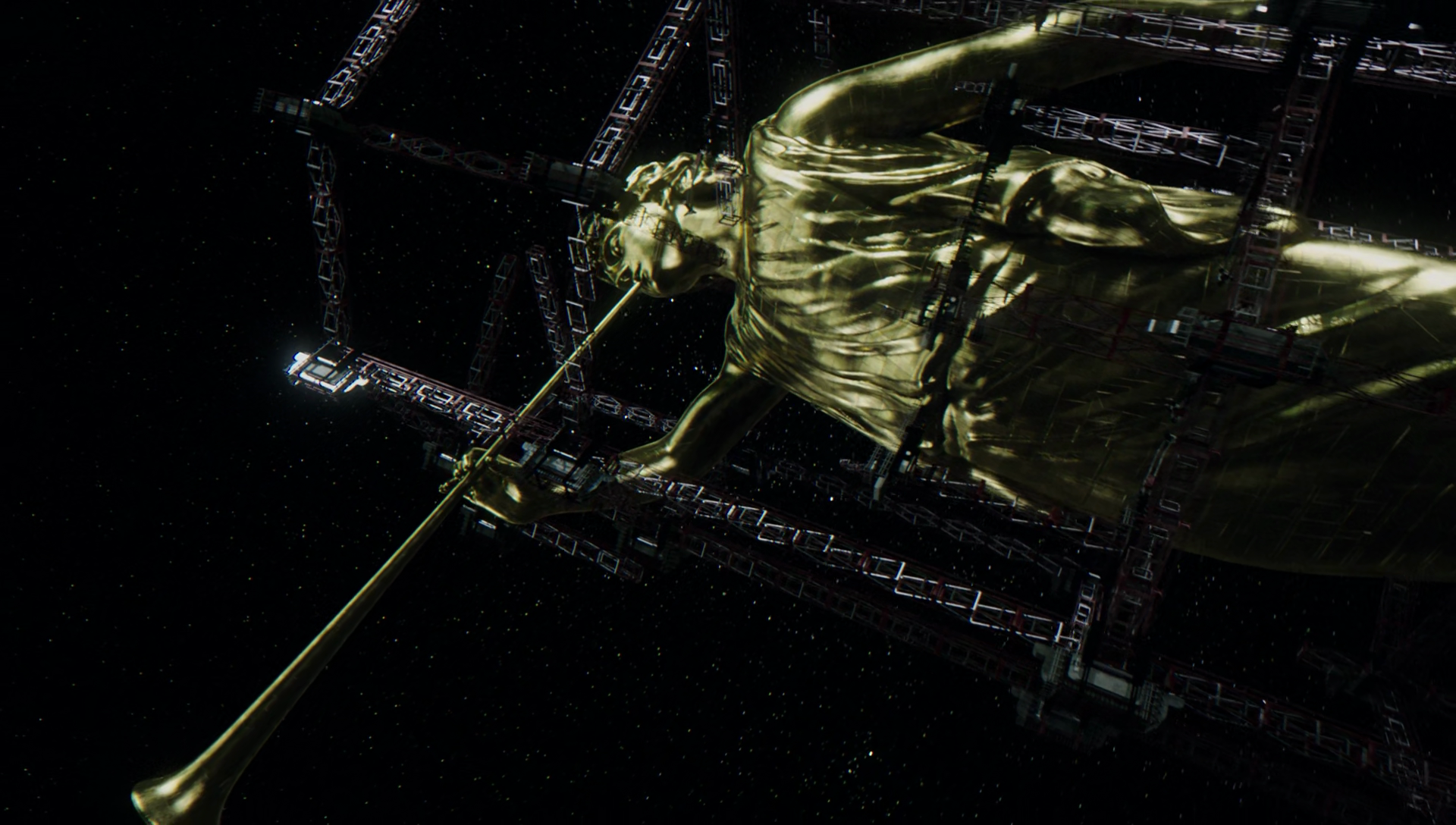 Doch neben diesen genretypischen Elementen greift die Serie auch bekannte Elemente des Mormonentums auf, die in das technologisch weiterentwickelte 24. Jahrhundert übersetzt werden. Denn die Nauvoo ist nicht nur ein Raumschiff, sondern auch ein fliegender Tempel und ein moderner Garten Eden für die Mormonen. So verwundert es nicht, dass Motive verwendet werden, die bezeichnend für die Mormonen sind.
Dazu gehört vor allem die gewaltige Statue des Engels Moroni auf der Spitze der Nauvoo. Aber auch das Design der Kommandobrücke und der gezeigte Tempel sind eindeutig mormonisch. Das zeigt sich vor allem in der Verwendung von strahlendem Weiß und Lichtelementen, goldener Dekoration und der für die Mormonen überaus bedeutsamen Darstellung von Besiedlung.
Der Artikel geht noch weiter!
Werde Patreon-Unterstützer*in und erhalte alle exklusiven Zugriff auf alle Art of the Week Plus-Artikel.
Patreon ist wie Crowdfunding, nur monatlich.
Du unterstützt als Patreon-Mitglied Art History Fantastics, abonnierst stressfrei alle Inhalte und erhältst exklusive Inhalte. Und noch vieles mehr!
Mit nur 1 Dollar pro Monat bist du schon dabei.
---
The generation ship Nauvoo & the Mormons in the tv show The Expanse
The Expanse is currently one of the most successful Science Fiction series worldwide. Based on the book series by James S. Corey (pseudonym for Ty Franck and Daniel Abraham) SyFy has been producing the TV series of the same name since 2015, which can currently be seen on Amazon Prime.
The Expanse is set in the 24th century and mankind has colonized the solar system. The big power blocks Earth, Mars and the Belt are in a more or less cold war with each other for resources, independency and supremacy. The Mormon religious community is shown as an important, but rather as a side line.
They missionize and collect money for the most daring and ambitious project of mankind at the beginning of the plot: the construction of the generation ship Nauvoo. With its help the Mormons want to venture into the unknown depths of space and find a new planet that can be inhabited by humans.
The success of the series is based, among other things, on the extremely realistic and well-researched presentation of science and technology, which convincingly shows existing concepts for space colonization, gravity generation, asteroid mining and so on.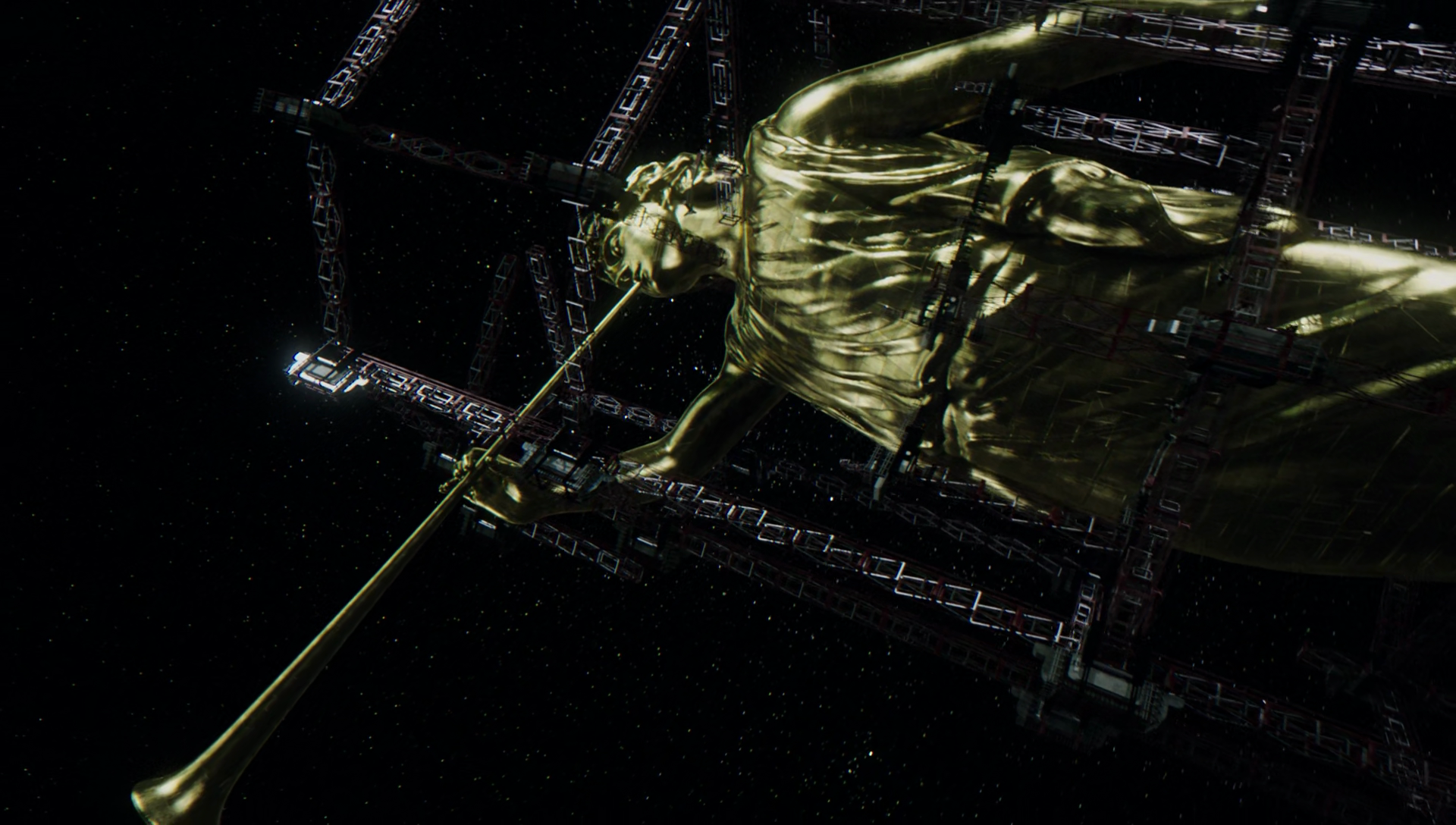 But in addition to these genre-typical elements, the series also picks up on familiar elements of Mormonism, which are translated into the technologically advanced 24th century. For the Nauvoo is not only a spaceship, but also a flying temple and a modern Garden of Eden for the Mormons. It is therefore not surprising that motifs are used that are characteristic of the Mormons.
Among them is the huge statue of the angel Moroni on the top of the Nauvoo. But also the design of the command bridge and the temple shown are clearly Mormon. This is particularly evident in the use of brilliant white and light elements, golden decoration and the representation of settlement, which is extremely important for the Mormons.
The article continues!
Become a Patreon supporter and get access!
Patreon is like crowdfunding, only monthly.
As a Patreon member you support Art History Fantastics, subscribe to all content without stress and receive exclusive content. And much more!
With only $1 a month, you're already in.