Curious Pair by Josu Hernaiz | Magic: The Gathering
The artwork for episode 3 of Art of the Week was chosen by you! And not surprisingly, it has once again become one of the great illustrations for the trading card game Magic: The Gathering.
Curious Pair by Josu Hernaiz
With the edition 'Throne of Eldraine' the most famous trading card game in the world moves into new creative spheres. In terms of content, famous fairy tales and legends are used for the cards.
At the same time there are now also several design versions of individual cards, which are adapted to the respective theme of an edition (Booster Fun).
Our example today by Josu Hernaiz is one of these rarer card versions and refers to the famous story of Hansel and Gretel by the Brothers Grimm.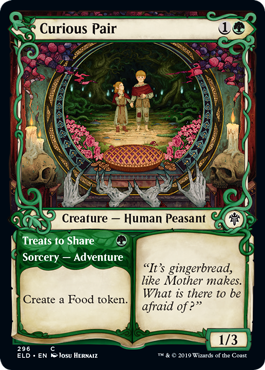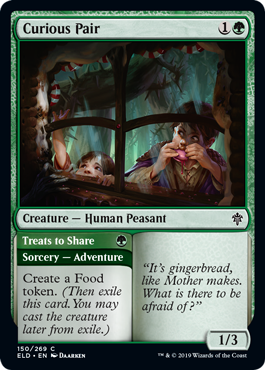 All the well-known and frequently depicted elements of the story are present: the brothers and sisters in tattered clothing, the threatening forest where they were abandoned, the inviting witch's house with sweets and the imminent danger from the witch who wants to eat the children.
Two aspects of the illustration are particularly noteworthy. The chosen central perspective allows us to dive deep into the story. Level by level the artist builds up the picture: In the foreground are the claw-like hands of the witches, followed by the witch's house wall with curtains, skull candlesticks and a cloud of red berries. The whole thing is interrupted by a round window with a large fruitcake on the windowsill. The next level is formed by the children on the forest path, which gets lost in the dark trees at the back.
Gretel looks at her big brother Hansel. But the latter looks neither at her nor at the cake, but seems to fixate on us directly. The round window cut-out and the breaking through of the picture barrier are strongly reminiscent of old Netherlandish painting of the 15th century.
Here, too, the border between viewer and picture is broken for the first time. Jan van Eyck is especially famous for his play with reality and pictorial fiction as well as the involvement of the viewer.
About the Artist | Josu Hernaiz
Josu Hernaiz is a freelance artist with a focus on illustrations and concept art. He mainly works for Wizards of the Coast on illustrations for the trading card game Magic: The Gathering, but also for other studios and developers in the entertainment field.
He lives in Santiago de Chile.
---